To modify the general settings of a bot, hover over the side navigation panel of the bot and click Settings. The General Settings tab opens by default.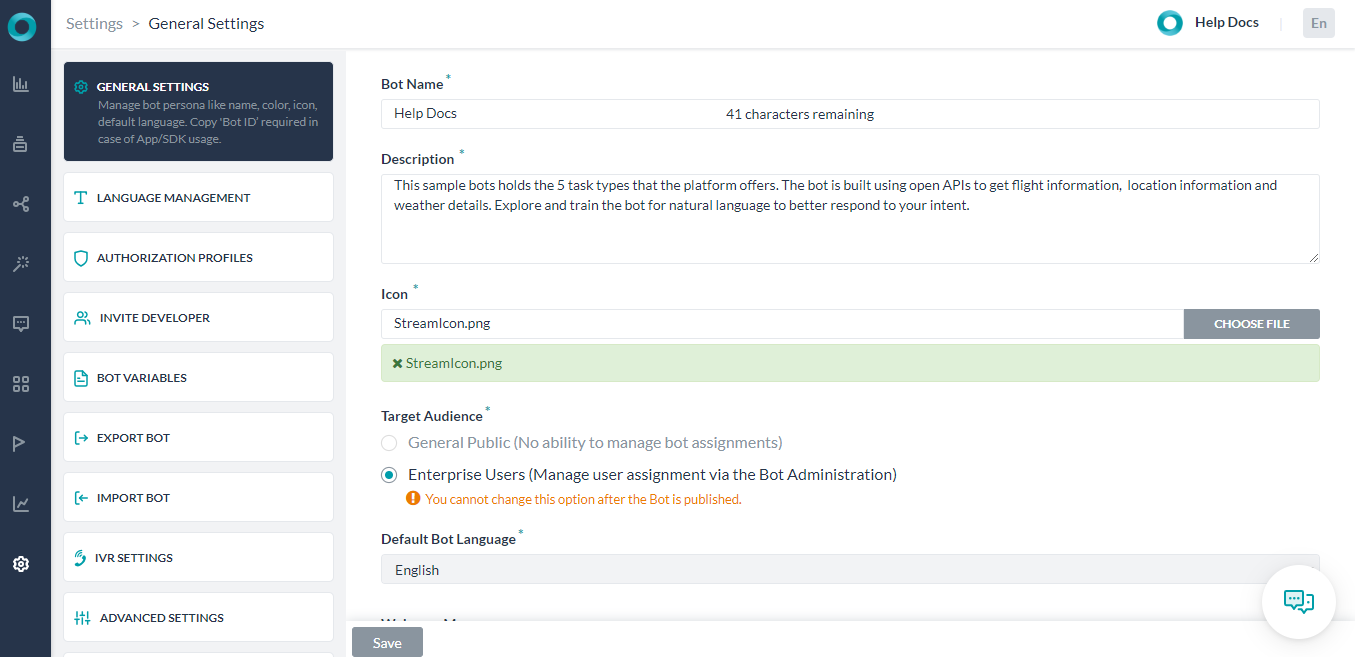 Modify one or more of the settings described in the following table.
Field Name
Description
Bot Name
The name of the Bot displayed in the Bot Store, for example, My Web Service Bot, as the name of a Bot shown in title bar in the following illustration. While a Bot is published, the Name cannot be changed. This field is required.

Description
The description of the Bot, for example,

This is the description for My Web Service Bot.

, displayed in Bot Builder and the Bot Store as shown in the previous illustration. This field is required.
Icon
The icon image for the Bot displayed in Bot Builder, Bots Marketplace, and the end-user interface as shown in the previous illustration. The image format must be

.png

and best results are obtained using a 200 x 200 pixel image. This field is required.
Color
Click the default color swatch to open the color picker to choose the color for the background of your Bot images and in the Bot Store. In the right column, slide the selector bar vertically to the color hue desired, and then in the left color display box, click to select a specific shade, and then click Choose to save the selected color as shown in the following illustration:


Target Audience

Select General Public if the bot is for public use for both managed and unmanaged users in your domain. Bot assignments are not required and when the Bots Admin deploys the bot, it is available for use by all domain users. Use this option to make a bot widely available for all user types.

Select Enterprise Users if the bot is for managed users only in a domain, for example, for your employees or paid customers. After the Bots Admin approves and deploys this bot, it is not available to any managed users unless explicitly assigned by the Bots Admin. Use this bot when you want to control which managed users in your domain can access and setup this bot on their devices.

Once Target Audience is defined and saved, you cannot change them.

Welcome
Message
The Bot Builder platform no longer supports Welcome Message. If you have defined a Welcome Message in previous versions of the platform, the upgraded version automatically creates a corresponding Welcome event and On Connect event to ensure backward compatibility. Learn more.
To save the Bot settings, click Save. The < Bot Name > updated successfully message is displayed.
Next Steps
If you are publishing this Bot to the Bot Store, you must also define additional settings in the Bot Store section. For more information, see Bot Store Settings.