After you sign in to Kore.ai Bot Builder, you are directed to the landing page.
Bot Builder Landing Page
On the landing page, you can perform the below-listed actions:
Access the Virtual Assistants or bots in your account:

View the Recently Visited bots.
View All Bots which includes My Bots i.e bots developed by you and Shared Bots i.e bots shared with you for development by the codevelopers from your account. You can:

Filter the list restricting it to bots created by you or shared with you;
Sort the list either ascending or descending by name, creation date, date modified, number of tasks, bot owner name;
toggle between Tile View or List View.

Create a New Bot

Access Process Apps (more…)
Access Data (more…)
Invite Members to your account (more…).
Access the Contextual Help.
From the Profile section,


View and switch between your accounts, in case of multiple accounts.
Go to Admin Console – available only for admin users.
View and edit your Profile.
Set the App Language – to switch the platform language.
Access developer Documentation pages.
Access Developer Community pages.
The following sections describe the menu options that are available once you open any virtual assistant from your account.
The navigation menu underwent an overhaul with the ver9.0 of the platform, for a comparative list between the 9.0 and earlier versions, refer here.
Top Menu
All the actions available within the bot builder can be accessed from its menu. For ease of usage, they are categorized as follows in the Top Menu:
Build
Deploy
Analyze
Manage
Apart from these, from Top Menu you can:
Switch between the various versions of the current virtual assistant
Search and switch to any virtual assistant within your account
Search for a feature or menu item
View the status tracker
Switch the bot language
Access contextual help
Access the profile.
Based on the selection from the top menu, left menu options differ. You can pin a frequently used menu item to the top of the left menu using the pin icon, next to the corresponding menu item.
Build top menu items assist in the basic bot building aspects

Summary for a bird's eye view of all the bot configuration and capabilities.
Conversation Skills – basic tools for building bot's conversational skills:

Storyboard – an intuitive conversation designer and builder
Dialog Tasks – a full conversational flow between a user and a bot
Knowledge Graph – to turn your static FAQ text into an intelligent, personalized conversational experience
Small Talk – for the casual conversations that a bot can have with the end-users.
Alert Tasks – to deliver timely, relevant, and personalized information from enterprise systems to customers and employees

Digital Skills

Digital Views – to design interactive components, panels, and widgets, to proactively present relevant information to your customers
Digital Forms – for an interactive User Interface for easy and efficient capture of all the information from the user will be ideal.

Natural Language for all aspects related to bot training, and settings.
Intelligence to handle virtually all nuances related to human conversations, including interruptions, clarifications, and more.
Testing to include Utterance Testing and Batch Testing

Deploy to make the bot available to others
Analyze
Manage for
Dialog Task Builder Page
To access the Dialog Task Builder page,
Select Build from the Top Menu;
From the left navigation pane, under Conversational Skills select Dialog Tasks.
For each task, the following details are displayed:
When you hover over a task name, for the following options:

Edit, Clone, Delete the task
More options like View, Dialog Settings, Manage Interruptions, Manage Amend Behavior, Manage Variable Namespace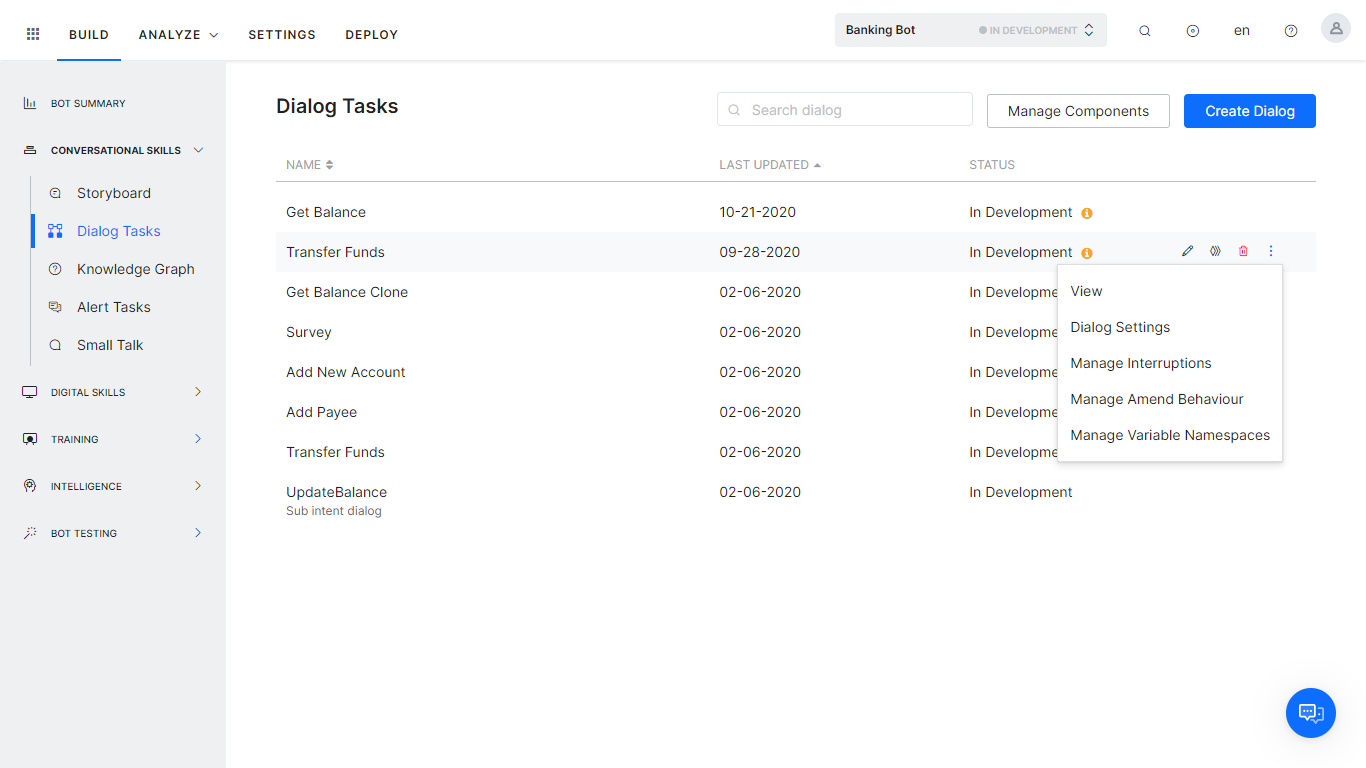 Bot Dialog Builder Page
Dialog Builder is a user interface to create a conversational flow between a user and a Bot in a dialog task using various task components, properties, and settings.
For more details, click here.