The Confirmation Node allows you to prompt the user for a Yes or No answer.  It helps when you want to verify information or allow the user to make a choice.
For example, in Book Flight Bot, you can use a confirmation node to prompt the user to respond if they would like to know the weather forecast at the destination.
The confirmation node's conditional transitions go beyond the If-Else expressions. The transition depends on user reply: assertion (yes) or negation (no). The Else condition comes into play if their answer isn't both.
Add the Node
Setting up a confirmation node in a dialog task involves the following steps:
Open the dialog task to which you want to add the Confirmation node.

Add a Confirmation node in the designated place. For steps related to adding nodes,

refer here

.

The Confirmation window is displayed with the

Component Properties

tab selected by default.
Configure the Node
Component Properties
Notes
: 
The configurations you set up or edit in these sections reflect in all other dialog tasks that use this node. 
This article works with the new dialog builder, you will find this feature in legacy builder at the same location i.e. Confirmation node -> Component Properties.
To configure the component properties, follow the below steps:
Additional Synonyms for Traditional Chinese Language
For the Traditional Chinese language, the Platform provides the following additional synonyms for "yes" and "no" responses on the Confirmation node:
Yes Confirmation
"係", "係呀", "講得啱", "啱", "冇問題"
No Confirmation
"唔係", "冇", "無", "唔得", "唔可以", "唔使", "唔要", "唔想", "唔啱"
These synonyms can be configured on the confirmation node under Component Properties > Synonyms during the Build stage of a Dialog Task.

After detecting these additional synonyms, the Confirmation node extracts "yes" or "no" from the user utterance.
Instance Properties
IVR Properties
You can use this tab to define the input mode, grammar, prompts, and call behavior parameters for this node to use in the IVR Channel. This is done at the node level. Click here for details.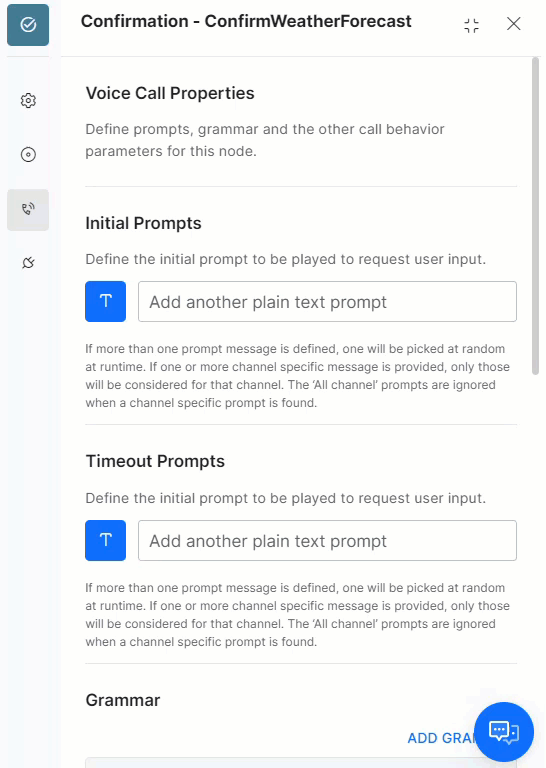 Connections Properties
The Confirmation node's conditional transitions go beyond the If-Else expressions used for the other nodes. You can define conditional expression based on a context object value, else a user assertion (yes), or else user negation (no). Beyond the three, you can define a fallback Else condition to trigger. 
Note: These conditions are applicable only for this instance and will not affect the node when being used in any other dialog.
For details on how to work with connection conditions, please see Adding IF-Else Conditions to Node Connections.