Standard Bots are the most common type of bots. With these bots, you can create dialog, alert, action, information, and knowledge task, as well as flows that map one task to another.
This topic describes the basic settings required to create a new Standard Bot.
Create a Standard Bot
Log in to the Bot Builder platform with valid credentials.
On the landing page, click + New Bot on the top-right.
On the Create New Bot window, enter a name in the Bot Name field.
Select English from the Default Bot Language drop-down list and Standard Bot from the Bot Type drop-down list.
You can import a template that suits your needs from our Store and tailor it to suite your needs, see here for more.
Define Bot Tasks
After creating the Standard Bot, you are ready to define how your bot works. You can define your bot by starting with the bot tasks.
Define one or more tasks or flows for your bot in one of the following methods:
On the Bot Summary page, click + New Task on the Tasks widget.
From the Bot Tasks tab, hover over the required task and click the + icon.
Tasks are what your bot does for the end-user, such as book a flight, get weather information or cancel a ticket.
You can define the following task types from Kore.ai Bot Builder: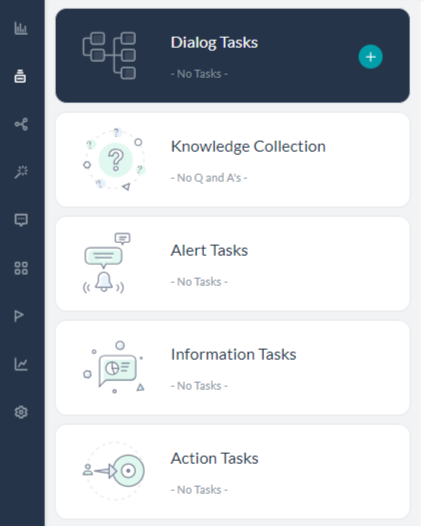 Note: The Knowledge Collection and Flows are available on the Bots Tasks page.
Dialog Tasks – Consists of multiple intents, sub-intents, and component nodes to conduct a complex conversational flow between a user and the bot.
Alert Tasks – Monitors a web service for events and sends a notification message to the user when the event occurs. You can use this task type for scheduled polling or near real-time notification using webhooks.
Knowledge Graph – Turns static FAQ pages into an intelligent, personalized conversational experience. Build a hierarchy of crucial terms, add questions to the right nodes in the hierarchy, and leave the responding to users task to the bot, thus enabling your support staff to engage with more complex tasks.