Adding the Kore channel to your bot allows end-users for your bot to interact with your bot using the Kore Messaging application available as a web client, desktop client, or mobile client.
To add the Kore channel
In the Bots section of the Bot Builder, click the Bot that you want to add the Kore Messaging channel to.
On the Channels tab, click the Kore icon. The Kore Channel page gets displayed.
The Channel added successfully message gets displayed. The Kore channel is added to your Bot and no additional configuration is required.
Editing the Kore Channel
To edit the Kore channel, hover your mouse over the channel and click to modify. You can make necessary updates to your channel configurations and save them. You may also disable or delete the channel information by clicking the Settings icon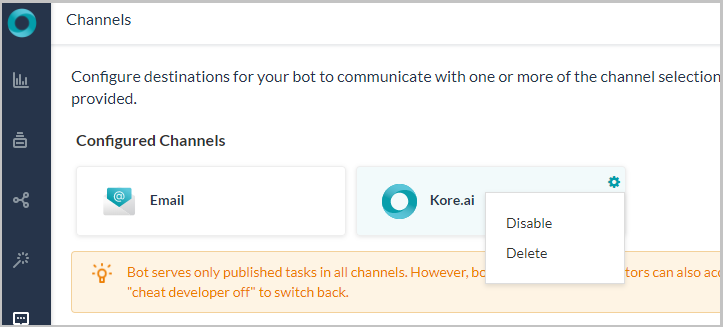 Select one of the following commands:
Disable/Enable – Click Disable to temporarily disable use of the Kore channel for your Bot. To enable use of the Kore channel, click Enable
Delete – Click Delete, and then click OK in the Delete Confirmation dialog to permanently delete the Bot channel configuration.
Warning: This operation is permanent, and cannot be undone.