Synchronizing Users from Active Directory
As a Bots Admin or admin user, you can configure Kore.ai to synchronize with your organizational LDAP Active Directory to enroll users from your company into Kore.ai. On the Enrollment > Directory sync page, you can do the following:
Use a cloud-based or Kore.ai agent to connect to your Active Directory (AD) server
Manually start a synchronization with your company Active Directory
Create exclusion rules used to prevent unwanted updates to existing users or groups
Define distribution lists to import from Active Directory
Define organizational units to import from Active Directory
Set up an automated schedule for synchronization.
Kore.ai can synchronize with your LDAP Active Directory to match the member information from your organization to include, for example, user profile data such as name, department, title, telephone number, location, and user status in the organization.
If a Kore.ai user leaves your company and is deactivated in Active Directory, Kore.ai can automatically deactivate the Kore.ai account during the next scheduled Active Directory synchronization. Your company Active Directory is never modified during synchronization.
Cloud-based Connector vs. Kore.ai Directory Agent Connector
Kore.ai can either directly connect to your AD server and request data using standard authentication, or you can configure a Kore.ai Directory Agent in your company Intranet to push data to Kore.ai as needed. The latter option is more secure in that an AD port does not need to be opened to the Internet to allow Kore.ai servers to access your Active Directory server, and any AD credentials are only saved inside your company Intranet.
Both options require authentication and are secure, however, no incoming connections to your AD server are required for the Kore.ai Directory Agent. All configurations and security for AD sync with Kore.ai are completed inside your Intranet and data is only pushed to Kore.ai as you define within your Intranet.
To get started, you must choose the type of Connection Settings that you want to use. The following illustration is an example of the Directory Sync page in the Enrollment module with the Kore.ai Directory Agent selected.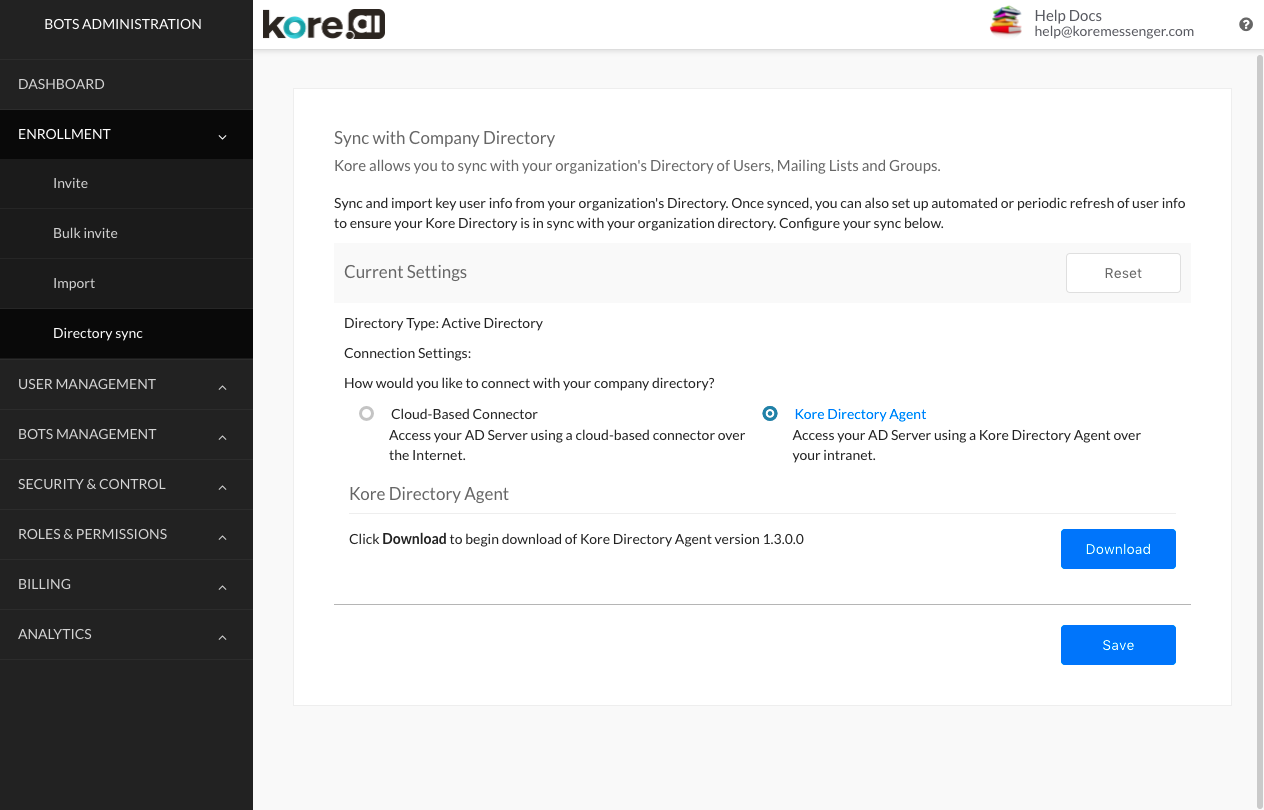 Prerequisites
To configure Active Directory synchronization using cloud-based or the Kore.ai Directory Agent, you must:
Have administrative access for reading and executing actions on your LDAP server.
Familiarity with LDAP queries and LDAP server administration.
Have a Microsoft Active Directory LDAP Server.
Kore.ai offers a wizard-based approach that will take you through a step-by-step process to set up access to an Active Directory and configure the synchronization process customized for your company. You can define synchronization for members, and if needed, distribution lists and organizational units.
In This Section
Configuring Active Directory Sync
Installing the Kore.ai Active Directory Agent
Manually Start a Sync with Active Directory
View Report on Active Directory Sync
View History of Active Directory Synchronization Runs