Importing Users and User Data
If you need to invite many Kore.ai users and you already have additional information about users in addition to the email address, such as the First Name, Last Name, Department, Phone, and Job Title, you can use the Import page to add new users and update existing users based on a list that contains additional user information.
When you import user data using an import template, you can define and import detailed user information into your user accounts when enrolling and inviting users, and for existing users, you can also use an import list to update their user profile data. When a user accepts your invitation to join Kore.ai and then begins the enrollment process, the account data that you import can already be populated in the Kore.ai enrollment form.
The following illustration is an example of the Import page in the Enrollment module.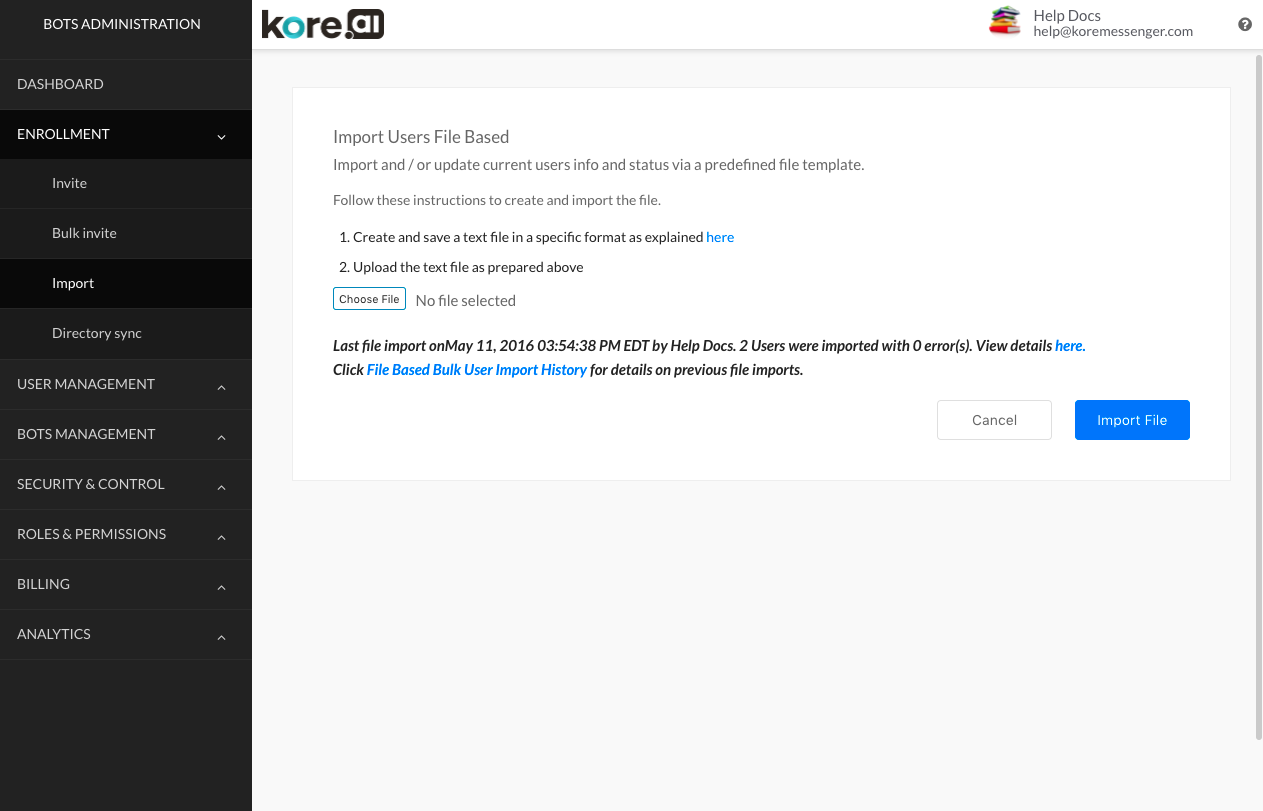 The import file can be a basic text file and saved as a .txt or .csv file format. After you create an import file, you can upload the file to add or update the Kore.ai users in your account.
Import File Requirements
When you create an import file, you must adhere to the following guidelines:
The first row identifies the Kore.ai account field names to save the data to.
The following Kore.ai account fields are required:

Email ID
First Name
Last Name
User Status – One of

New
Update
Delete
Activate

Create one row for each Kore.ai user
Valid field delimiters are comma, pipe, semicolon, and tab
When using an import file, the following validation rules are applied:
Entries with invalid email addresses or email formats are ignored.
Each successful import of an email address generates an invitation email to become a Kore.ai user.
Existing users in your Kore.ai account are not sent invitation emails.
Imported users with status set to Activate are sent a notification that the Kore.ai account is activated.
Sample File
For a .txt file:
Email ID, First Name, Last Name, Work Phone, Title, Department, User Status

Kore.aiUser1@kore.com,User1FirstName,User1LastName,800-555-1212,President,Executive,New

Kore.aiUser2@kore.com,User2FirstName,User2LastName,800-555-5555,VicePresident,Executive,New

Kore.aiUser3@kore.com,User3FirstName,User1LastName,,,,New
In This Section
Create and Upload an Import File
Next Steps
For new members that you enroll using import, the invitee must validate their email address to register as a Kore.ai user. After registration, the user is available in your account.