So what is a Kore.ai bot? Kore.ai bots are web robots, or chatbots, that can interact with a human using everyday language simulating human activity. Bots attempt to collect information to to perform an automated task using web services, such as delivering current weather for a certain ZIP code, get a list of showtimes for a particular film or theater, or calling for a taxi.
Kore.ai bots will not only get you the information you want, but will also take actions based on that information. For example, if the weather report that you requested reports a very low temperature, you can turn on your heat for your programmable wifi-thermostat directly from the Kore.ai bot. No need to log on to the weather site, and then log on to your thermostat controller…a Kore.ai bot can do that for you. And best of all, you can do that using our Kora chatbot and everyday common language.
The end-user can manage their bot account from any bot. For example, if you want to add a new email address, or change time zone, a link to their bot profile is displayed that is valid for 5 minutes to display a web form to modify bot account user profile data.
Check out our video on how to build a working bot in just 5 minutes! (Read more – Bot Builder Tool)
The Bots Platform uses natural language processing (NLP) for human-to-computer and computer-to-human interactions using a type of artificial intelligence based on chat scripts. Developers can build, deploy and promote intelligent, NLP-enabled bots wherever company employees and customers like to communicate. We call our NLP interface Kora. For more information, see the Natural Language Processing Guide.
The Kore.ai Bots Platform allows customers to chat with your custom bot using email, SMS, and messaging clients, such as Facebook Messenger, Kore.ai Messenger and more through your on-premises application in a secure network or external cloud-based web services. For more information about Bots and security, see Enterprise Bots.
About the Kore.ai Bots Platform
The components of the Bots Platform include the messaging interface that you can use to access the Bots Platform from many channels as shown in the following diagram.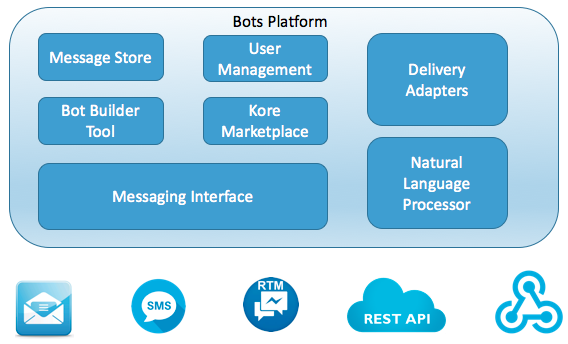 Your customers can interact with your web application directly using email, SMS, real-time messaging, our Kore.ai REST API, webhooks, and more! To get started, you should become familiar with Kore.ai bots, how they work, and how you can build, customize, and deploy bots for your customers as employees in your organization, or customers of your company.
Natural Language Processing
Kore.ai Bots, either built-in or custom bots, can use Natural Language Processing, or NLP, to interact with users. For example, a user can chat to a Kore.ai bot and type or ask, "What is the weather forecast for my location?" The NLP-enabled bot will parse the user input, select an appropriate bot task, such as the Weather Underground 3-day forecast, and then determine and request for additional information needed, such as user zip code or location. Using NLP-enabled bots, your users can interact with the Kore.ai Bots Platform using everyday, common language terms. Kore.ai built-in bots are already NLP-enabled. However, you can also create a customized bot using the Kore.ai Bot Builder tool, and define and customize NLP settings to suit your specific needs. For more information, see Optimizing Bots for Natural Language Processing.