After you sign in to Kore.ai Bot Builder, you are directed to the landing page.
Bot Builder Landing Page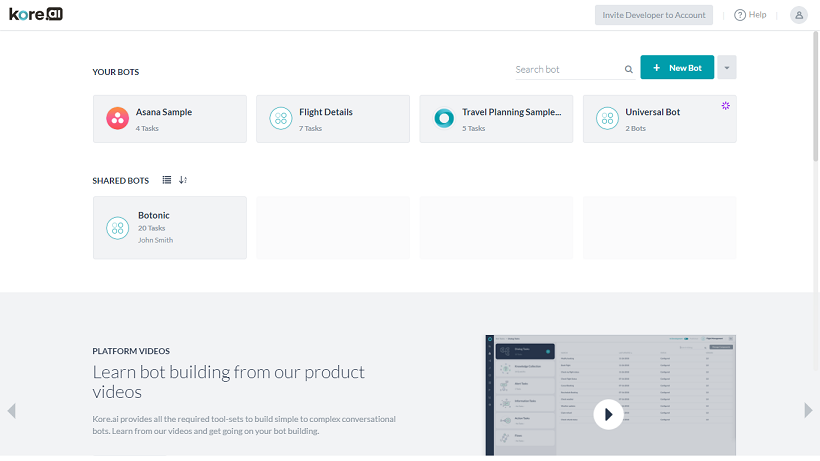 On the landing page, you can perform the below-listed actions:
View all the Bots developed by you.
View the Bots shared with you for development by the codevelopers from your account.
Create a New Bot (more…).
Import a Bot (more…).
Invite Developers to your account (more…).
Access the Contextual Help.
From the Profile section,


View and switch between your account, in case of multiple accounts.
Go to Admin Console – available only for admin users.
View and edit your Profile.
Set the App Language – introduced in v8.0, you can use this option to switch the platform language.
Access developer Documentation pages.
Access Developer Community pages.
After you open a Bot and hover over the left navigation pane, you can find multiple options.
This navigation pane gives you access to various functionalities of the Bot Builder. The functionalities are as follows:
Home – To return to the Bot Builder Landing Page.
Dashboard – To access Bot Summary and Usage Metrics to understand various components of the Bot and its real-time status (more…).
Storyboard – To access the conversation designer to design various scenes that are representative of the actual end-user conversations with the bot (more…).
Bot Tasks – To view and add various Tasks to your Bot (more…).
Natural Language – To train your Bot for responsiveness and efficiency (more…).
Testing – To test your Bot for User Utterance and to run Batch Test Suites (more…).
Channels – To enable Channels to host your Bot (more…).
API Extensions – To enable API access for your Bot using BotKit SDK, Agent Transfer, and more (more…).
Publish – To enable user access to your Bot on selected Channels (more…).
Analyze – To track and improve the Bot performance post-publication (more…).
Status Tracker – To track all export and training jobs.
Bot Task Builder Page
To access the Bot Task Builder page,
Hover over the left navigation pane, and select Bot Tasks.
On the Bot Tasks page, you can find tabs (Dialog Task, Knowledge Graph, etc,.)for each task type that you can create on the platform.
Click a tab to view the list of tasks in your bot.
For each task, the following details are displayed:
When you hover over a task name, the Settings 

icon appears.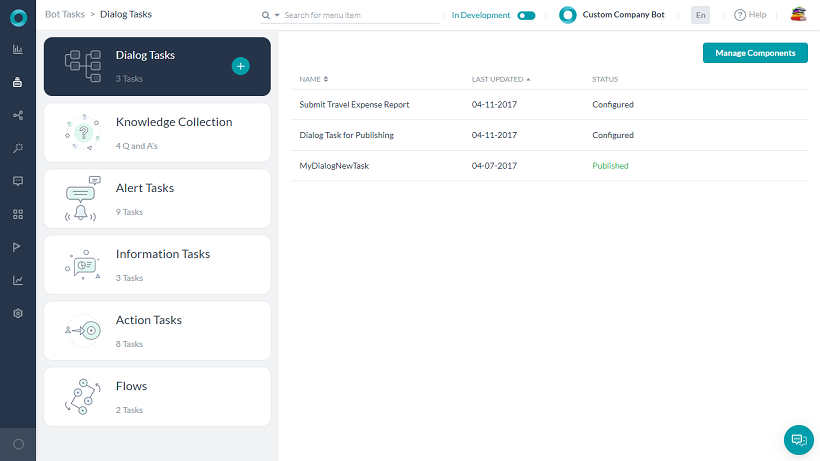 To create a new task,
Hover over a task type tab; then click the + icon. For example, if you want to create a Knowledge Graph, hover over the Knowledge Graph tab; then click the + icon that appears.
For more details, click here.
Bot Dialog Builder Page
Dialog Builder is a user interface to create a conversational flow between a user and a Bot in a dialog task using various task components, properties, and settings.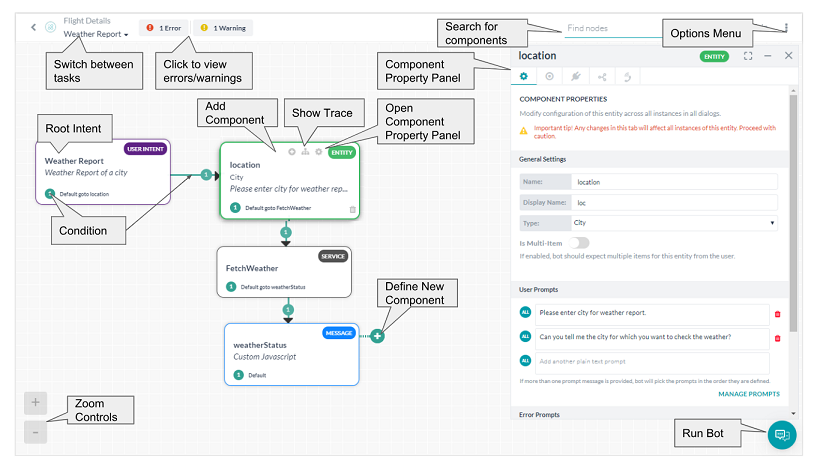 For more details, click here.