Kore.ai Bots are lightweight pieces of powerful software that connect you directly to enterprise and consumer apps, systems, and websites.
Kore.ai Bots enable you to:
Get relevant updates from a variety of apps and systems that you use on a daily basis.

Perform tasks in third-party apps and systems.

Generate on-demand reports from third-party enterprise systems.

Automate workflows.
Kore.ai Bots are available for use with your Kore.ai account, and for use on a variety of channels such as email, Kore.ai messaging, Kore.ai spaces, SMS, Facebook Messenger, and more!
You can get Kore.ai Bots at the Kore.ai Bot Store to use to receive alerts from your favorite apps and websites via text message, email message, or another web service system.
At the Kore.ai Bot Store, you just need
to register for a free Kore.ai account,
select a bot,
select a channel to use that bot in, and
then click Add.
It's as simple as that! For example, to use CNN, you can choose to add the CNN app to your Kore.ai messaging client, or interact with the CNN bot via an email address.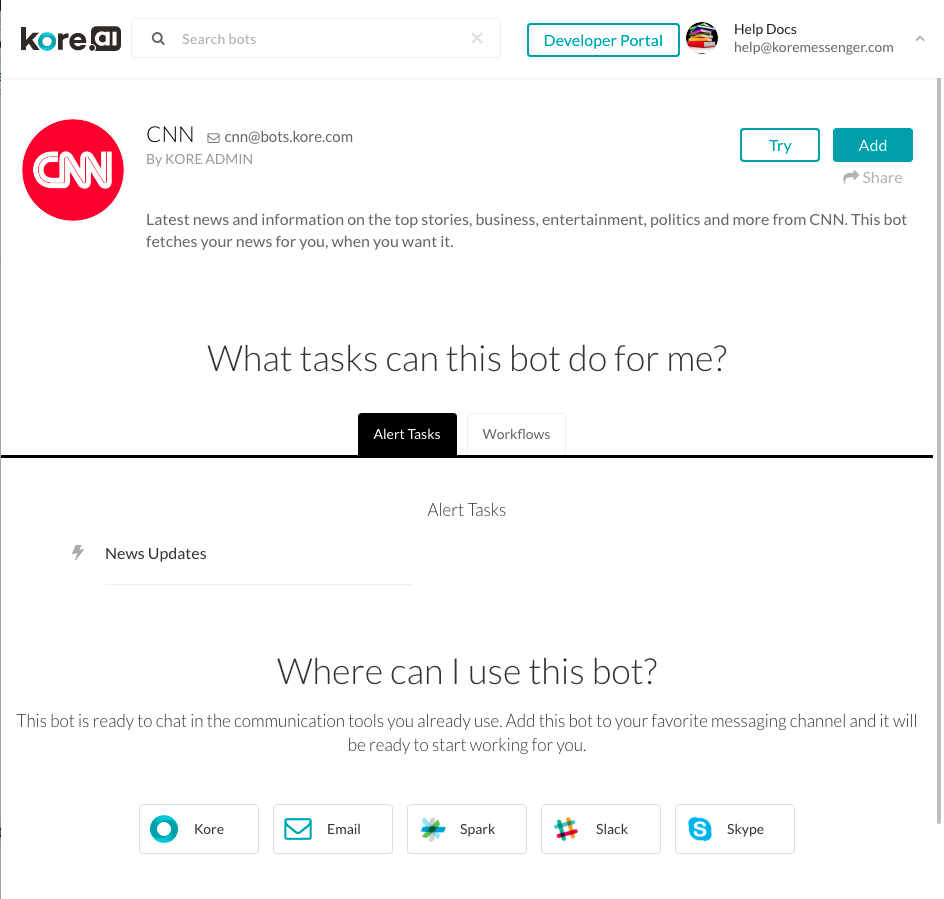 You can select Kore.ai to add the app to your Kore.ai messaging client, or click Email me for the Kore.ai account you signed in with or even enter another email address to send CNN messages to. For more information about all of our Kore.ai Bots and to find the right Bots for you, see Adding a Kore.ai Bot.