Your bot can have many dialog tasks with related components. You can use the Dialog Editor to create, review, and edit a single dialog task for a bot. However, to better visualize and understand relationships and settings for all dialog tasks in a bot, you should use the Manage Components feature.
To start managing your dialog tasks, follow these steps:
Open the bot for which you want to manage the dialog task components.
Hover over the side navigation panel and click Bot Tasks.
Dialog Components
The Dialog Components window shows all of the components used in any dialog task of the bot.To view or modify the settings of a component, click its name. The Properties panel of the node opens.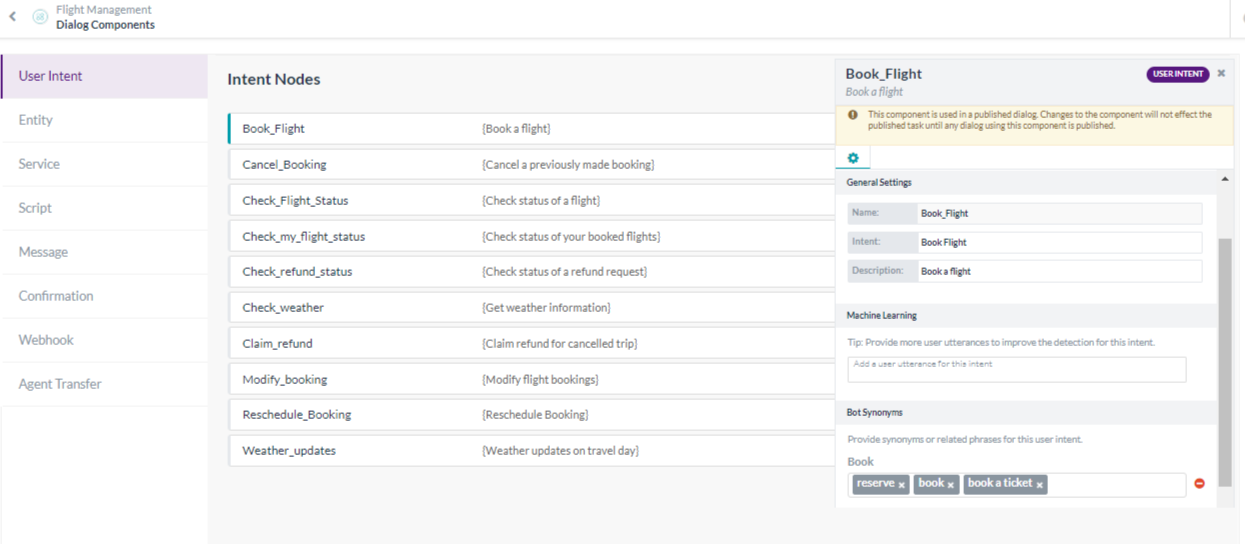 The following table lists the details included in the window for each component type
Component Type
Details
User Intent

Name
Description
Dialog Tasks used in

Entity

Name
Entity Type
Dialog Tasks used in

Message

Name
Dialog Tasks used in

Script

Name
Dialog Tasks used in

Service

Name
Service Type
Dialog Tasks used in

Confirmation

Name
Dialog Tasks used in

Webhook
Agent Transfer