Bot Management Preferences
On the Preferences page in the Bots Management module of the Bots Admin Console, you can manage the admin approval process to deploy Bots and Bot tasks to managed users in your enterprise. After an enterprise developer publishes a Bot or Bot task, you must approve the Bot, and then assign that Bot to managed user. On this page, you can automate the approval and Bot task assignment process for all Bots at the enterprise level. You can also define auto-approve settings at the Bot level. For more information, see Deploying Bots.
The following illustration is an example of the Preferences page in the Bots Management  module.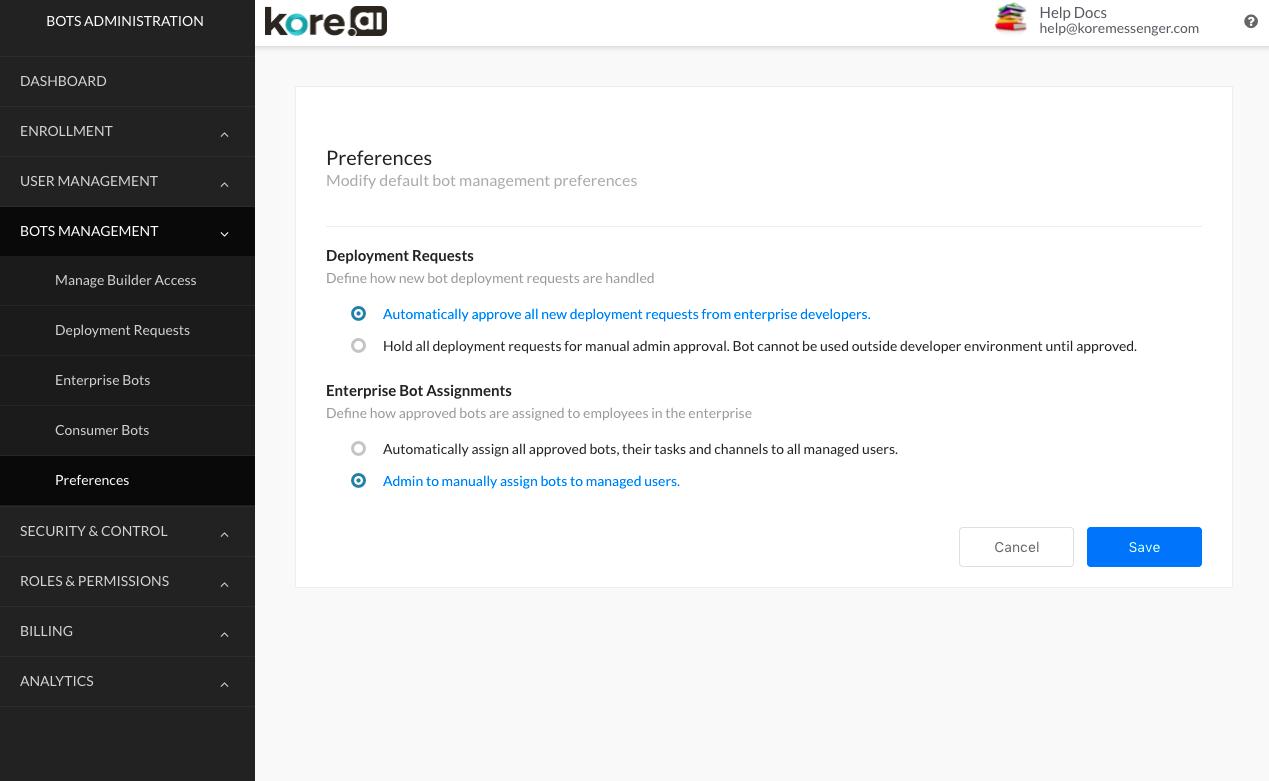 By default, the Bots admin must approve and assign Bots published by enterprise developers.
To automate deployment requests:
In the Deployment Requests section, click Automatically approve all new deployment requests. When deployment requests are automatically approved, the Enterprise Bot Assignments section is available.
Click Save.
To automate Bot assignments
Note: Bot assignments cannot be configured unless deployment requests are set to automated.
In the Enterprise Bots Assignments section, click Automatically assign all approved bots, their tasks, and channels.
Click Save.
When deployment requests and Bot assignments are automatic, managed users are assigned new Bots and Bot Task immediately after the enterprise developer publishes the Bot or Bot task.
Next Steps
If you do not automate deployment requests or Bot assignments, a notification of pending deployment requests is displayed on the Dashboard page, and on the Deployment Requests page in the Bots Admin Console.