At Kore.ai, we value your feedback. You can report a bug and request a feature at https://bots.kore.ai/botstore/ using the Support link located at the footer of the page when using a desktop web browser to access Kore.ai.
When you access Kore.ai Support, you can search for help articles, or go directly to documentation support for the Bots Platform for information about creating and working with custom bots, or the Messaging Platform documentation for information about using Kore.ai Bots from the Bot Store, and the Kore.ai messaging application for users, spaces, and rooms.
Registered Kore.ai users can submit a ticket, view ticket status, and also view ticket history on the My Activities command located on the user menu as shown in the following image.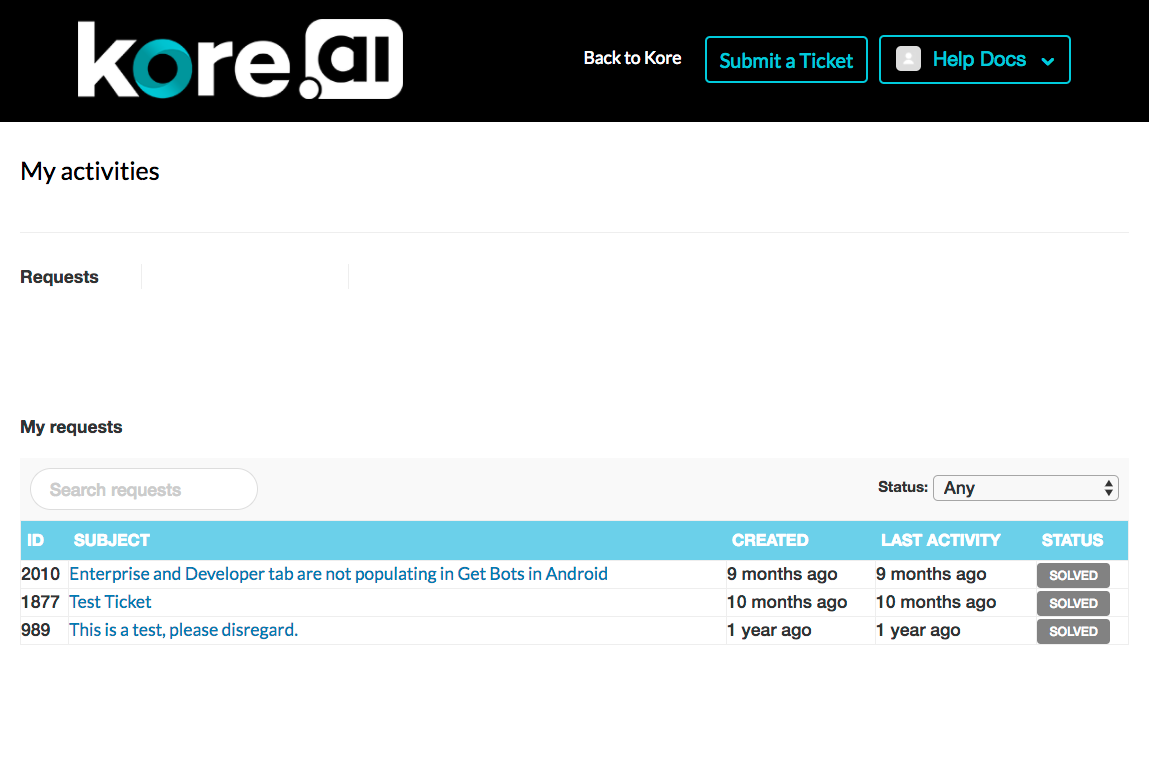  To access Kore.ai Support on the Kore.ai messaging smartphone app, tap account on the top left corner of the screen. Then scroll down and tap HELP. The Kore.ai Support page is displayed as shown above.
You can also find us on social media, like on Twitter® (@Kore.ai) and Facebook® (https://www.facebook.com/kore.aicommunity/).
 On the desktop web or app, click your user menu in the lower left corner of the Kore.ai messenger Home page, and then click Help as shown below to display the Kore.ai Support page.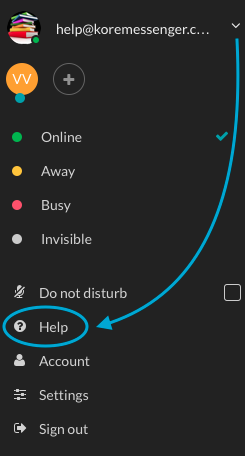 Collecting Information
Before you contact Kore.ai Support, you should be able to provide as much as possible of the following information:
Enrolled Kore.ai Plan – For example, Free or Premium, etc.
First & Last Name
Address
Telephone Number
Email Address
Description of the issue to include:

Application Type: User, Space, Enterprise, or Web Designer.
Module: Messages, Contacts, Workflows, Spaces, Domain Management, and so forth.
Detailed information on the issue, including expected and actual behavior.
Steps to reproduce the issue.
Supporting screenshots, images, or log files.
Reporting Bugs for Bots
If you need assistance with a Kore.ai Bot or even a custom Bot deployed in your enterprise, you should provide the following additional Bot-related information for Kore.ai Support.
Bot Name
Task Name
The environment where the Bot is deployed, for example, https://bots.kore.ai, https://myCompany.com, etc.
Specific Issue with the Bot or Task.
Kore.ai support does not have access to your bot due to data security and privacy reasons. To give access follow these steps:

Add koresupport@kore.com as User from the User Management section (click here for how) under the admin console
Once the support team accepts the invite (you can work with them via the ticket to accept the invite) add koresupport@kore.com as bot developer to the bot in question (click here for how) or with a specific role with required access to help expedite resolution of your issue.
Please mention your account name in the ticket in case you are sharing bot with koresupport@kore.com.
Service Level Agreement
Kore offers all of its customers unlimited 24 X 7 X 365 access to Kore.ai's Help Center. Our Help Center boasts of several hundreds of articles that cover a host of features, tips, and FAQs. If you still cannot find an answer to your support question or would like to comment on a feature or request a new feature, feel free to open a support ticket directly from our Help Center. You must have an active Kore.ai account to submit this request.
The Kore.ai Support team will make every effort to reach out to every customer submitting support tickets. While we offer error response and resolution to all of our valued customers, we prioritize help to our paid customers with Premium Support.
You can contact the Kore.ai Support team through the following means:
In-App: Using "Help" within the Kore.ai client applications to access the Kore.ai Help Center.

E-mail: support@kore.ai
The initial response and final resolution timelines are based on issue severity levels assigned to the support tickets. Severity levels assigned to tickets are mutually agreed on by the customer and the Kore.ai Support team and the severity may change over time if mutually agreed upon by both parties. All activity for support tickets activity is managed and tracked through the Kore.ai Support Portal. For more details on the SLAs contact the support team.